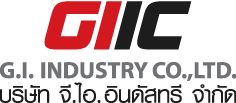 KONSTANZ TRAINING KITS
With high standard of manufacturing and quality control, our training kits and demonstration stations are widely regarded as among the best. G.I. Industry client base does not only stop locally within Thailand, but our training products have been shipped off overseas to many countries' educational and industrial sectors such as Australia, Malaysia, Israel and a few countries in Africa.
AUTOMOTIVE TRAINING KITS: TOYOTA PROJECT TRAINING KITS
Toyota Camry Hybrid and Prius Demonstration stations/cut away to be displayed at various Motor shows including Bangkok Motor Show and Motor Expo. The stations help audience understand more in detail of how a hybrid works. With many interactive visual and audio features, a whole hybrid concept is illustrated by just visiting this station.
TOYOTA CAMRY HYBRID DEMONSTRATION STATION
TOYOTA PRIUS HYBRID DEMONSTRATION STATION
TOYOTA HILUX VIGO DEMONSTRATION CUT AWAY
AUTOMOTIVE TRAINING KITS: STANDARD AUTOMOTIVE TRAINING KITS (Some examples of our automotive training kits)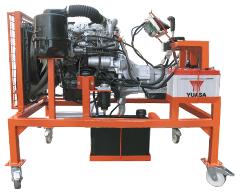 Diesel engine stand
Engine startable kit as a virtual car. There are transmission gear, cooling system and standard components which are installed in the engine.
Carburetor-type gasoline engine stand
A gasoline engine with carburetor-fueled supply. The engine is installed on the stand with transmission box. It is possible to start the engine at idle speed, and accelerate the speed.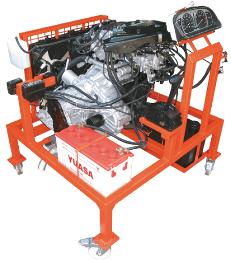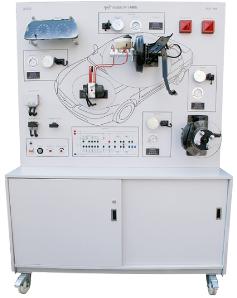 ABS training kit
This kit is for demonstrating an operation of ABS (anti-lock braking system) which is usually used in a vehicle. It also includes driven motor. It is possible to simulate the operation of ABS for all four wheels.
1-Cylinder/ 4-Stroke gasoline engine demo kit
This is a gasoline engine which is 1-cylinder and 4 stroke type. It has been cut away to display all parts within. It can be rotated by hand to display the operation of the engine for all operating status.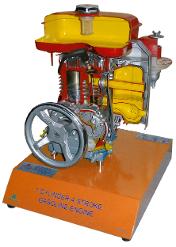 STANDARD ELECTRONIC TRAINING KITS (Some examples of our electronic training kits)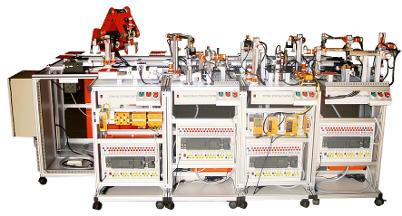 Automation system training kit
This training kit simulates a bearing assembly (press in type) into various gears (iron, brass and PVC) and bearing removing (press out type). Its structure is aluminum profile with rollers for mobility. It is for practicing automation control via network of PLC and SCADA (optional with AS-i wiring) software.
Desktop robot demo kit
The mechanical arm with clamp can be moved in 5 axis and each axis moves indepently. The movement of the arm is driven by DC servo motor. There is an operation programme and is controlled by PLC.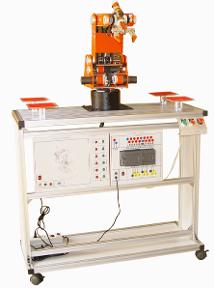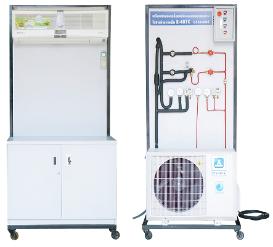 1-ton BTU split-type Air-conditioning demo kit
The demo kit is for practicing air-conditioning operation. It is supplied with 220VAC/50Hz, 1 phase power. It is possible to select two kinds of refrigerant controller (Cap tube and expansion valve). Two pressure gauges for monitoring high and low pressure. Three types of coolants: R-22, R-407C and R-410A are optional.
Programmable Controller (PLC) training kit
This user-friendly training kit has error protection system that makes it suitable for practicing in programming PLC for beginners as well as advanced users. It can also be easily interfaced with other devices. The complete set is a suitcase-size tough case that is easy to carry.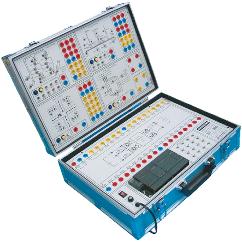 STANDARD ELECTRICAL TRAINING KITS (Some examples of our electrical training kits)
Experimental workbench with console
It is suitable for electrical and electronic practice. It includes power supply console for testing. Components and equipment in each module of the console can be ordered as required.
*Dimension 800x1,500x800mm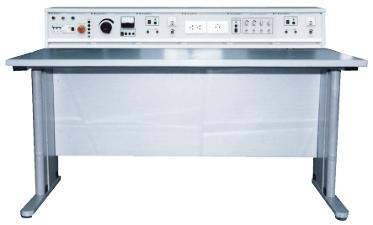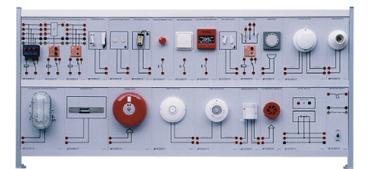 Electrical equipment installation testing and fire alarm system training kit
This training kit is for learning the fire alarm system and electrical equipment installation testing. The panel is installed on aluminum rails and connecting cables are of safety standard which withstand up to 10 A. All components on training board can be used as one system.
Electrical measuring instruments training kit
This training kit is suitable for learning of use of various types of panel meters. It consists of panel meters, power supply and load: R, L, C type. All training boards are equipped with earth leakage circuit breaker to protect users from electrical shock.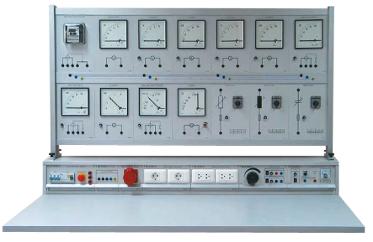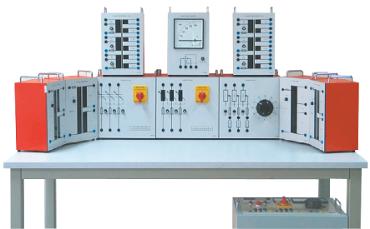 Transformer training kit
This special design transformer training kit is suitable for educational purposes. It has protection system for users from electrical shock. Transformer loading is well contained in paint coated metal boxes. All testing equipment is well installed on workbench with ease of use and high durability.
Cut-away pneumatic device demonstration kit
This kit is a basic pneumatic device demo set for understanding the working principle of each device. The complete set is in a suitcase easy to carry around.